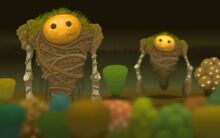 The Earth Tower (or as fans name him, Calhoun, which means "from the narrow Forrest") is a boss creature in the PixelJunk Monsters games. He is seen as an upside down triangular rock and dirt mix with sticks and dirt as arms to hold him up. As he walks, he wobbles side to side. He represents the element earth and is a tad bit faster than the Gold Idle and takes more hits.
Edit
Ad blocker interference detected!
Wikia is a free-to-use site that makes money from advertising. We have a modified experience for viewers using ad blockers

Wikia is not accessible if you've made further modifications. Remove the custom ad blocker rule(s) and the page will load as expected.